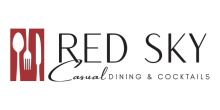 Outer Banks Restaurant in Duck, NC
Red Sky, the casual dining restaurant in Duck, NC formerly known as Red Sky Cafe, has been delighting locals and visitors for more than 15 years with fresh, creative meals that highlight local Outer Banks seafood, poultry, beef, duck and more. The owner and chef, Wes Stepp, has more than 30 years of culinary experience and is well-known locally and throughout the Hampton Roads area of Virginia. Chef Wes and his team serve up beautiful, generous portions in the casual atmosphere of this Outer Banks restaurant. And, while no one leaves hungry, Chef Wes is also renowned for his attention to a healthy lifestyle that encourages, as its centerpiece, a focus on whole, fresh and locally sourced food. Locals know that if they want to eat well without the guilt, Red Sky is the place to head. Conveniently located beside Carolina Designs in downtown Duck, the year-round restaurant offers a dynamic menu, as well as nightly chef specials fit to delight even the pickiest of palates!
Red Sky – Beyond the Restaurant
In addition to dining in the Duck, NC, restaurant or ordering lunch/dinner to go, Stepp's competent team can also cook for you in your home with their Chefs on Call service. Red Sky is also known as a premier caterer in the Outer Banks region (in fact, it recently was chosen as the Wedding Wire's Couples' Choice Award for outstanding catering services). So, whether you are interested in trying an affordable restaurant in Duck, looking for a special evening in for a group or you have an event that needs catering, Red Sky is ready to serve up delicious fare!
Red Sky is open for lunch and dinner seven days a week through the summer season. Call for winter hours!