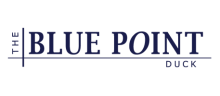 Owners John Power and Chef Sam McGann opened their 52-seat, soundside restaurant in Duck, NC in 1989. It was a bold move. Duck was just beginning its growth as a vacation destination and the dining choices were limited, even in the summer. Certainly, there was no place like THE BLUE POINT, with its open kitchen, casual, yet unique retro decor of glass block, Formica, and red bar stools, to the Fiestaware plates and contemporary menu. The partners started with a fresh approach and brought an option to dining that was just different on the Outer Banks. As the Town of Duck developed over the years, so did the restaurant by committing to being open all year and updating the decor, service and food along the way. THE BLUE POINT and Duck grew up and evolved together.
In 2006, THE BLUE POINT went through an extensive renovation with updated decor, seating, and expanded bar and larger, but still open kitchen.
At the forefront remains our commitment to the Southern Hospitality that set the service apart from the beginning. There has always been gracious, personal attention to the guests and a professional and educated staff that sets the mood for the dining room. Our menus change seasonally based on the best local produce and sustainable NC Seafood. Traditional signatures can be found on our menu, from jumbo lump crab cakes, Rosebay oyster stew (winter) and scratch she crab soup (summer), to contemporary takes on dishes such as brandade, ceviche, smoked vegetables and cured meats. As a kitchen, we've always been proud of our fresh baked breads, biscuits and desserts plus house-churned ice creams & sorbets. Throughout the years our philosophy has remained the same - keep our dishes simple, personal and consistent with strong roots in Southern cooking.
As we celebrate 32 years, overlooking the Currituck Sound from our perch at the end Duck's soundside boardwalk in the Waterfront Shops, THE BLUE POINT still strives to be an active ingredient in the neighborhood mix of locals and visitors. Of course, we want our Duck, NC restaurant to be THE place for a special occasion, as it has been now for several generations of families - but also a place where everyone is comfortable just stopping by for lunch or dinner, or just a drink...for good food, good wine and good friends….and oh yeah…for great sunsets!