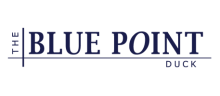 Dynamic Southern Cuisine & Hospitality
Duck was still a sleepy little village when "those two guys" opened the Blue Point in the summer of 1989. Only a few years before, Route 12 ended at the county line. While the Northern Beaches of Dare and Currituck Counties have experienced continuous growth over the past 20+ years, Duck has retained its charm and "sleepy" attitude.
Those Two Guys, Inc. – are – John Power and Sam McGann, high school friends from Norfolk, Va. Sam is a graduate of Norfolk Academy and Lynchburg College. After college, cooking in a neighborhood restaurant in Norfolk gave him the motivation to pursue a career in the field. He went on to graduate from Johnson & Wales University in Providence, RI with a degree in the Culinary Arts.
John, a graduate of Maury High School and Hampden-Sydney College, fell into the business by tending bars all around Norfolk and Va. Beach during and after college. While endeavors outside of the restaurant business were pursued before opening the Blue Point, John always came back to the business, finally deciding that it suits him.
A circuitous route brought John to Duck where he picked up a bartending job in 1988. He will admit that it was not foresight of the tremendous growth that lay ahead for the Village, but more of a feeling that this was where he wanted to be. After a few months in Duck, John knew he wanted to open a restaurant here. Knowing nothing about the kitchen – one person came to mind as a partner: Sam McGann. John brought Sam down on a February night to see a location he had found. Gale force winds howled across the Currituck Sound and the rain was turning to sleet. Not a soul was around. That night at John's family cottage in Carolina Dunes, Sam did his best to convince John that he was nuts.
A return trip to the Waterfront Shops the next day proved pivotal. As often happens on the Outer Banks, the weather was dramatically different from the day before – blue sky, calm waters and 60 degrees. (Still nobody around, though.) And Sam's opinion turned around like the weather had. The partnership began.
At the time, many locals expressed their skepticism. They didn't think that those two guys would be able to make it with an upscale approach to food and wine. Those same locals became good customers and friendships formed that continue today. And not only did the Blue Point make it, but it has established itself as one of the most recognized and highly regarded restaurants in the region. This little waterfront diner consistently makes the "must-experience" lists of the likes of Southern Living, Gourmet Magazine and the Wine Spectator. It has also been noted by many that the Blue Point could be anywhere in the world and it would still be the hard-to-get reservation.
Never has the Blue Point rested on its good reputation but has continued to evolve and work harder at offering a truly unique and rewarding experience. Sam and John are still at the helm of the restaurant and have not wavered in their commitment to it.