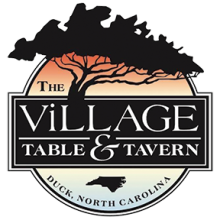 The Village Table & Tavern is a place where locals and visitors gather to enjoy good food, good drink and good company. With sweeping views of the Currituck Sound, it's the perfect spot to enjoy thoughtfully crafted dishes and quality drinks in beautiful yet comfortable surroundings. Vacationers and locals alike find The Village an inviting spot for lunch, dinner, drinks and live music.
At The Village, we believe every meal is a chance to savor the simple pleasures of food and drink. Our menu reflects our long-held belief that casual food doesn't have to be boring and inspired food doesn't have to be stuffy. From apps to entrees, salads to sandwiches, the dishes we serve are familiar, comforting foods prepared in a way that makes them uniquely ours. Inspiration comes from our southern coastal location but also includes influences from cuisines around the world.
When it comes to drinks, we follow the same philosophy that guides our menu.  The Village wine and beer lists include stellar examples of familiar styles as well as more unique options for serious enthusiasts. Our selection of beers and wines is designed to perfectly complement our menu. Cocktails at The Village are familiar yet fresh. We start with traditional recipes, elevated with our unique twist and crafted with the finest liquors and house-made ingredients.
Our waterfront location makes The Village Table & Tavern a relaxing and scenic spot to start the evening, unwind after a long day or simply take a break between activities. We serve lunch and dinner year-round in the dining room or our covered deck when the weather allows. We also host live music in our outdoor Sound Lounge in the warmer months and in our cozy fireside lounge when temperatures drop.  Our sweeping lawn is the perfect spot to take in the spectacular OBX sunsets while enjoying a drink from our open-air bar.
The Village Table and Tavern is also a popular venue for special events. Our lawn, Sound Lounge and restaurant provide a sophisticated atmosphere and unbeatable backdrop for wedding receptions, birthday parties and other special occasions.