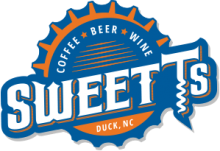 Sweet T's Coffee, Beer & Wine is full of character. Founded in 2011, the cafe/bar/market hybrid offers more than a few twists between their menu and retail selection, setting itself apart as a distinctive player in both the Duck, NC, restaurant and shopping scenes. The cafe features specialty coffees, teas and smoothies, cheese, meats, homemade baked goods, breads and even fresh salads provided by The Salad Bowl in Kitty Hawk.
Start your morning at Sweet T's with a specialty coffee drink, such as The Buckeye, and a pastry. Or head into the evening by enjoying a glass or two of wine and board of charcuterie and cheese on Sweet T's shaded deck or the inside bar. Behind the bar there are five rotating beers on draft, and the chalkboard lists the current wines available by the glass. On the market side of this shop in Duck, NC, you'll find gourmet snacks and gifts, as well as more than 200 bottled craft beers and 100 fine wines from around the world. No matter what your fix is, you can get it at Sweet T's. 
Sweet T's owner Stacey Walter considers her Duck, NC, restaurant and shop a conduit for camaraderie, and more than a few handfuls of locals would concur. "People have become friends here," she says proudly. That's because she's created a space that can accommodate a wide-range of interests and attitudes. 
Duck, NC, Restaurant with Coffee, Beer & Fine Wine
The atmosphere at Sweet T's seems to have a supernatural knack for adapting to the moment. The shop is tight-knit inside, offering an ideal setting for cozy, coffee-sipping mornings, or for more spirited, beer-filled afternoons. Outside, it's a whole 'nother world! The deck is expansive, the seating is well spread and all of it is shaded by the resident oak tree. It's a place to sit and chat with friends, sip a drink - or several - enjoy a tasting or live music and observe the action happening in town. Point being: The living's easy here.