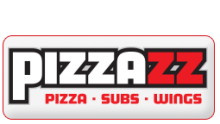 Outer Banks Pizza At Its Best
Pizzazz Pizza now has FOUR convenient Outer Banks locations in Grandy, Corolla, Duck & Nags Head.
Made with only the freshest ingredients and finest meat toppings! Dine in, carry out or delivery (from Corolla to South Nags Head; from Powell's Point to Aydlett).
Pizzazz Pizza of the Outer Banks was founded in 1986 in the small coastal village of Duck, North Carolina. Over the years of perfecting the quality of our menu and service, we now offer a locations in Grandy, Nags Head, Duck and Corolla in the Outer Banks, North Carolina. We're a local family-owned and operated pizza company with a well-trained and eager staff ready to serve you.  All of our dough and sauces are made fresh from scratch every day. We use the freshest produce and finest meat toppings to make our products the best we possibly can, and we take pride in every order.
Please stop by and visit any of our four locations or give us a call using our one number system at (252) 261-1111. Customer comments, requests, suggestions and other inquiries may be directed through e-mail to piemaster@pizzazzpizza.net. Please don't attempt to place an order through this email address as you will not receive your order.
Thank you for choosing Pizzazz Pizza of the Outer Banks. We hope you enjoy your meal!