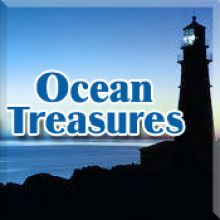 Welcome to Ocean Treasures, the only Art Gallery and gift shop in the world featuring the works of the two top leading artists of our time: Thomas Kinkade and Wyland, at the same great location.  If you are visiting the Outer Banks, stop in and enjoy a unique shopping experience. Our Gallery, located in the Scarborough Lane Shoppes, stays current with many of the new releases of both Wyland and Thomas Kinkade.  If there is a specific piece of art you are looking for let us know. About 25% of our inventory is new releases.  We also carry the art of Disney, Mark Keathley, Walfrido, Dan Mackin and more.  Our Gallery location is at 1171 Duck Road and is open M-F from 11:00 AM to 7:00 PM and Saturdays 10:00 AM - 5:00 PM.
But there is so much more that we have to offer - we also have an expanded Gift Shop experience, located in the Loblolly Pines Shopping Center.  At this location the art theme and the brand names continue in the form of gifts, collectibles, jewelry and toys.  This is where you will find Guy Harvey Sportswear; Disney Collectibles & Toys; Wyland Gifts, Thomas Kinkade Collectibles & Canvas Wraps; Jim Shore; Laurel Burch; Marcia Baldwin, Bethany Hamilton, and Tea Forte' Loose Leaf Teas & Accessories.  In addition you will find Tervis, our Art Glass Collection, Unique Marine Life Jewelry & Figurines; Art Inspired Bags, Gift Mugs and Unique Duck & Outer Banks Souvenirs.  Our Gift Shop location is at 1187 Duck Road & is open M-F from 10:00 AM to 7:00 PM, and Saturdays 10:00 AM - 5:00 PM.  
Visit us and you will find Ocean Treasures to be an unparalleled shopping experience in a relaxed Outer Banks environment.  When you combine the thousands of individual art and beach inspired items in both locations, you will truly find something for everyone.