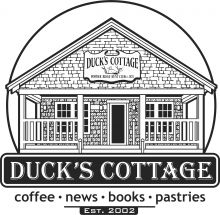 Sip! Duck's Cottage means Coconut Crunch and your favorite espresso drinks. Read! We feature an exquisite hand-picked selection of new books. Relax! Enjoy our beautiful location in Duck's only hunt club and enjoy the best front porch in town. Repeat! Once you find us, you'll be back again and again! You'll also discover why we've been recognized by The Washington Post, New York Times and Family Fun magazine, and sought out by thousands of visitors who return year after year. Come on in- pick up a book, grab a cup of coffee, have a seat and get ready to sip, read, relax, repeat!
With over seventy five years combined industry experience, we serve up the best specialty drinks in Duck. House favorites the Mucky Duck, the Nutty Duck and the Swan top our bestseller list, but we are also handing out perfectly made lattes, mochas or whatever your favorite morning pick-me-up may be! All drinks can be done hot or iced, high test or decaf. Need something to go on the side? We offer bagels, pastries and a terrific biscotti.
Duck's Cottage is an Indiebound bookstore- every book on our shelves has been personally chosen for our clientele by our book buyer and this attention to inventory shows. Our sections include fiction and non-fiction, cookbooks, regional titles, a great young adult section, children's books and more. We also have an interesting array of greeting cards, puzzles and calendars. 
We offer a wide range of coffees- always fresh, never burnt. From single origin coffees like our certified organic Colombian, Tanzanian, Papua New Guinea, Costa Rican and Ethiopian; to several custom blends found only at Duck's Cottage- Blackbeard's, 12 North and the house-named Cottage Blend. Our espresso beans are available in high test or decaf and we always have our world famous Coconut Crunch in stock. Many of our artisanal roasted coffees are available for purchase in 12oz. vacuum sealed bags.
Duck's Cottage opened in 2002 in the building originally known as the Powder Ridge Gun Club. Built in the early 1920's by a group of New York sportsmen, it was the only hunt club found in Duck, a town that took its name from the plentiful array of waterfowl in the area.
Several old pictures of the building, in addition to its sign, have been given to us and show the Cottage when it still stood on the point several hundred feet from our current location. In one, the Club's distinctive crossed whale bones can still be seen on the peak of the home; this picture graces one of our tee shirt designs.
Managed by Lewis Scarborough, a village native and life-long resident, most hunting was done from battery rigs and shoal brush blinds. The Club fell into private hands in the forties and remained a private residence until 2001. Its last inhabitant, 'Duck' Braithwaite, was a Duck legend and many early comers to Duck have memories of pleasant sunset cocktail hours spent with he and his wife, Betty.
While the business Duck's Cottage is owned by Allen Lehew, the building still remains in the ownership of Duck and Betty's sons, Jimmy and Bill Braithwaite.